La 30e édition du "Edogawa Kumin Matsuri" (Edogawa Festival) était présentée au grand parc Shinozaki, dimanche dernier (8 octobre 2007). Voici un montage-photos ainsi qu'un compte-rendu de ma visite.
The 30th edition of the "Edogawa Kumin Matsuri" (Edogawa Festival) took place in Shinozaki park on October 8 2007. Of course, being "the guy from Edogawa" I had to be there. Here are some pictures and comments of my visit.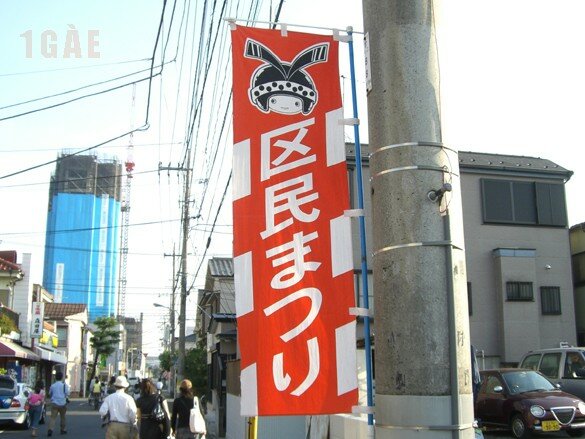 Le moyen le plus simple pour se rendre au festival était de sortir à la station Shinozaki, sur la ligne Toei-Shinjuku. Ensuite, il suffisait de suivre des bannières placées à intervalles et qui menaient directement au parc. Ce fut une marche de 15 minutes environ. J'ai bien aimé marcher à travers ce quartier car je ne suis pas encore un habitué de ce coin, contrairement à la partie sud d'Edogawa. A noter que sur la bannière on peut voir la mascotte du festival.
The best way to go to the festival was to get off at Shinozaki station on the Toei-Shinjuku line. Afterward, it was just a matter of following the orange matsuri banners all the way to the park. During the approximate 15 minutes walk to the park I took the opportunity to check out the neighborhood. Unlike the southern part of the Edogawa, this area of the "ku" is relatively new to me. Quick note, the festival mascot can be seen on the banner.
Un coup arrivée au parc il fallait manger, alors nous avons fait la file pour des crêpes. Ensuite, pour boire il fallait encore une fois faire la file, etc... J'ai cru un moment que le but du festival n'était que de faire la file! Toutefois, le service était rapide, assez efficace merci grâce au travail acharné des nombreux employés et des bénévoles. Nous avons par miracle trouvé une place pour manger. Sur la photo qui suit on peut voir ma crêpe (okonomi yaki) et ma Ramune (limonade japonaise, avec la bille dans la bouteille).
Once we were there it was time to fill up our empty stomachs. We had to wait in line for a while for pancakes, then we had to wait yet again for a while for drinks... For a minute I thought the purpose of the festival was just waiting in line! Did I mentionned it was crowded? It sure was! However, service was efficient thanks to an army of workers and volunteers. We were lucky enough to find some seats to eat lunch. On the pic you can see the pancake I ate (okonomi yaki) and my Ramune (Japanese lemonade with glass ball inside)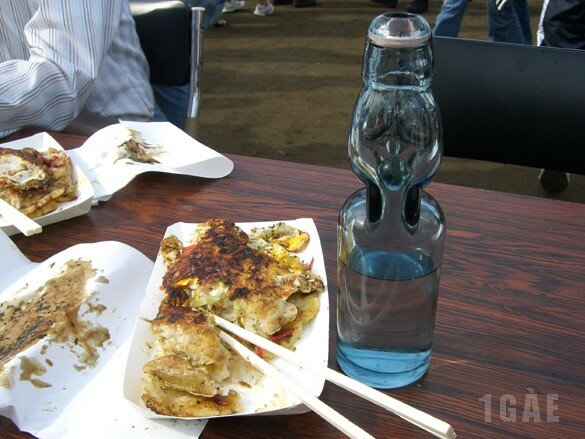 Il y avait des spectacles de toutes sortes: Musique, dance, et des trucs traditionnels.
All kinds of shows were featured; musical, dance, and traditional art.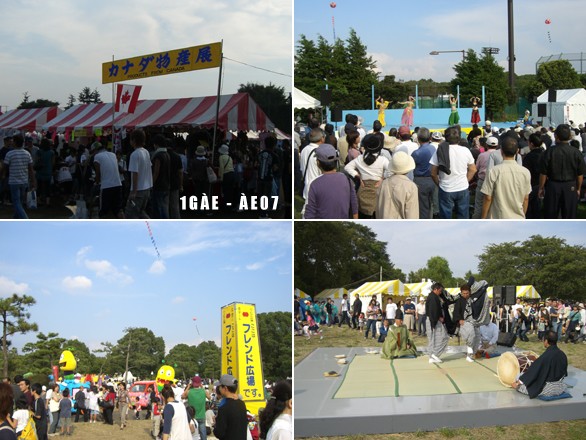 Il y avait aussi des stands qui vendaient des produits de plusieurs pays. Au stand Canada on vendait essentiellement du sirop d'érable et de la fourrure. Bref, des trucs clichés. Il y avait aussi des stands offrant des produits issus de préfectures avoisinantes au Japon. Finalement, il y avait un marché aux puces mais puisque je m'étais présenté sur le tard les meilleurs objets étaient déjà vendus.
There were also stands offering products from all over the world. The Canada stand offered typical canadian stuff such as maple syrup and fur. There were also stands selling local stuff from prefectures all over Japan. Finally, there was a flea market but I can't say much about the bargains, I was a bit late for that.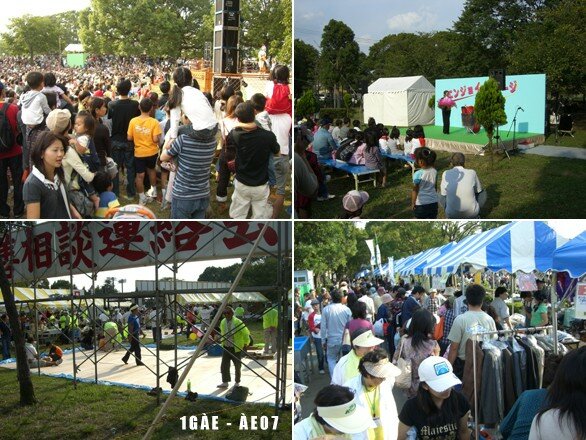 Evidemment, il y avait aussi des spectacles et des activités de toutes sortes pour les enfants. Des enfants, il y en a beaucoup à Edogawa! Il y a beaucoup de festivals au Japon le mois d'octobre. On dit que c'est le mois des arts. Alors rendez-vous dans quelques jours au Kasai Kumi Matsuri!
Of course, the young ones were not forgotten. Lots of shows and activities were available for kids. Speaking of kids, they are all over the place in Edogawa-ku! Anyway, there are lots of festivals in Japan during October. This time of the year is called the period of arts. See you soon at the Kasai Kumi Matsuri!
Official brochure of the 30th edition of the Edogawa Kumin Matsuri