Une semaine après le Edogawa Kumi Matsuri c'était au tour à la 32e édition du Kasai Matsuri de se mettre en branle. Le festival avait lieu au Kasai kuminkan (centre communautaire Kasai) et ses alentours, non loin de la station Kasai. J'étais donc en terrain connu puisque j'enseigne l'anglais a cet endroit tous les vendredi soirs. Encore une fois, vous ne serez pas surpris d'apprendre qu'il y avait beaucoup de monde, d'autant plus que l'endroit se prête plus difficilement à ce genre d'événement contrairement au parc Shinozaki qui est très vaste. Ça jouait même du coude par moment (j'ai vu des mémés se bousculer pour du savon de vaiselle!). Des rues furent donc fermées à la circulation afin de permettre la tenue de l'événement.
One week following the Edogawa Kumin Matsuri, it was time to make place for the 32nd edition of the Kasai Matsuri. The festival was held at the Kasai kuminkan (Kasai community centre) and it's surroundings. I know the place very well since I teach English there every Friday night. Once again, you won't be shocked to learn the event was jampacked with people, especially since there wasn't as much space available as Shinozaki park. To go from point A to B meant fighting the crowd on a constant basis. I even witnessed a few obachans (old women) pushing each other for cheap dish soap! Since the event took place in a dense populated area some streets had been close to traffic.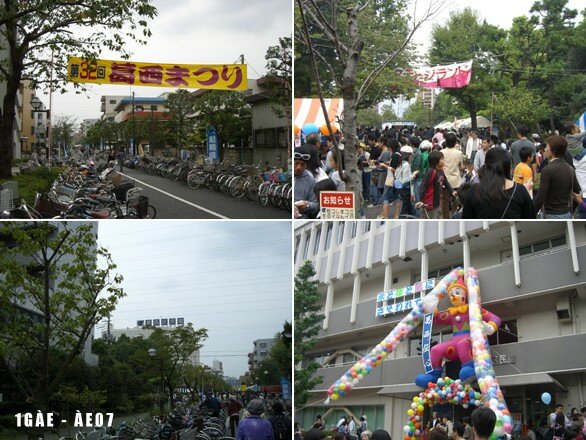 Tout comme au Kumin Matsuri, il y avait des kiosques de toutes sortes; Nourritures, boissons, informations sur divers services, groupes communautaires, etc... Evidemment, les files d'attente étaient légions.
Like the Kumin Matsuri, there were lots of stands offering food, drinks, informations about different services, community groups, and so on. Of course, there were huge lineups everywhere.
Il y avait également un marché aux puces, moins imposant que celui au Edogawa Kumin Matsuri. Mais cette fois-ci j'ai fait une trouvaille très intéressante: Un vieux puzzle d'Albator tout neuf, encore emballé!
There was also a flea market although quite smaller than to the one that was up for the Edogawa Kumin Matsuri. Nevertheless, I landed on something valuable, especially for people of my generation: Check out my still new and sealed Captain Harlock puzzle!
Il y avait une parade où des enfants issus de différentes écoles préscolaires ont défilé tout en jouant de la musique, c'était vraiment mignon les voir aller. Ensuite, les gens étaient invités à écouter un discours du maire d'Edogawa. Malheureusement, nous étions un peu loin du plateau alors il était difficile d'entendre quoi que ce soit.
Preschool kids paraded on the street playing different instruments, they were really cute to watch. Afterwards, people were invited to listen to a speech pronounced by Edogawa-ku's mayor. Unfortunately, we were a bit far from the stage so it was difficult to hear anything. Mind you, I probably would had required translation services!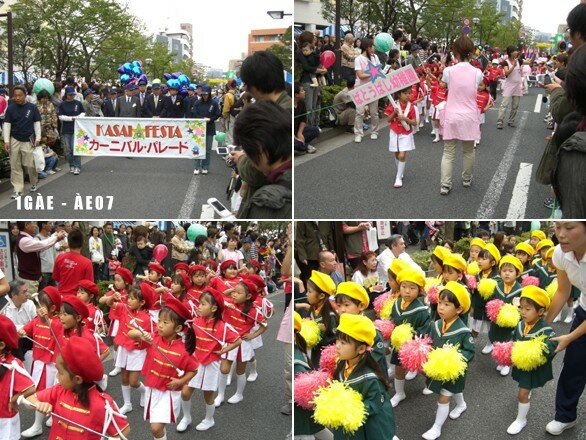 Dans le petit parc devant le kuminkan se tenait une activité fort appréciée des enfants; le "nijimasu catching". Voici une courte vidéo où on voit des enfants faire la chasse aux petits poissons rouges.
Near the kuminkan kids were having fun doing "nijimasu catching". Here is a short video of them kids trying to catch small red fishes in a pond.
Plus tard dans l'après-midi, il y avait des spectacles de danses hawaïennes. Honnêtement, je suis très curieux de cette fixation particulière que les Japonais ont vis-à-vis d'Hawaï.
Later on there were hawaiian dance shows. Honnestly, I'm really curious about how fascinated Japanese are towards Hawai. I don't know, maybe my university years have something to do about it (I majored in History).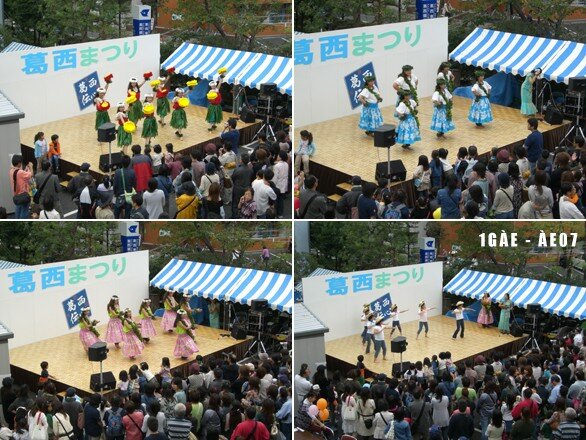 Il y avait aussi des activités et des expositions à l'intérieur du kuminkan. Par exemple, des expositions de bonsaïs, de calligraphies et de "lettering". J'ai également assisté à une démonstration de la cérémonie du thé. Les gens présents étaient un peu amusés du fait que je peinais à m'asseoir sur les genoux. C'était vraiment pénible! Par contre le thé et la sucrerie traditionnelle étaient délicieux.
There were also activities and exhibitions held inside the kuminkan, such as bonsai, calligraphy and lettering exhibitions. I also had the priviledge to participate at a tea ceremony. The other participants were amused about the fact I was having a hard time trying to sit on my knees. I must admit it was quite painful. However, the tea and the traditional sweet were very delicious. The women provided me with lots of interesting explanations.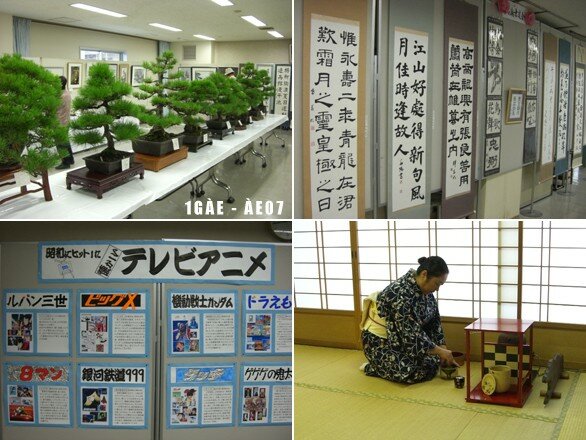 Finalement, fait intéressant à signaler. Il y avait un stand où on expliquait le fameux "Sakura Project" dont j'ai fais mention à quelques reprises ici sur ce blog. Les gens étaient invités à lire l'histoire des divers projets d'aménagement de la Shinkawa et aussi émettre des commentaires quant au projet. Soit dit en passant, maintenant que les détails sont disponibles il semble que le projet sera bien plus imposant qu'anticipé. J'ai donc émis mes observations, au grand étonnement des employés de la ville qui étaient présents. Curieux, ils voulaient savoir pourquoi je semblais être au courant et même enthousiaste face au projet. C'est là que je leur ai appris l'existence de ce blog. Un employé de la ville me donna alors sa carte d'affaires (meishi), m'invitant à le contacter pour toute question à propos d'Edogawa (par exemple, le mystère des toilettes égyptiennes). Aussi, je vais recevoir sous peu la présentation Powerpoint du projet. J'en dit pas plus pour l'instant mais ça promet. A suivre donc!
Finally, a small but important detail I should mention here. There was a stand about the "Sakura Project", something I have previously discussed about on here. People were invited to read about Shinkawa river's history and express their opinions regarding the project which is currently underway. By the way, the project will be much bigger than I previously thought. Anyway, I decided to write down my own comments and some city employees at the stand were curious about why I appeared enthusiast regarding the project. That's when I told them about this blog. I guess they were somewhat impress so one city worker cordially gave me his meishi (business card) and invited me to contact him regarding any questions I had about Edogawa-ku (for instance, I might get an answer shortly about those Egyptian washrooms I was discussing about not too long ago). Also, I will soon get more information about the Sakura Project. Therefore, stay tuned. This is promising indeed.