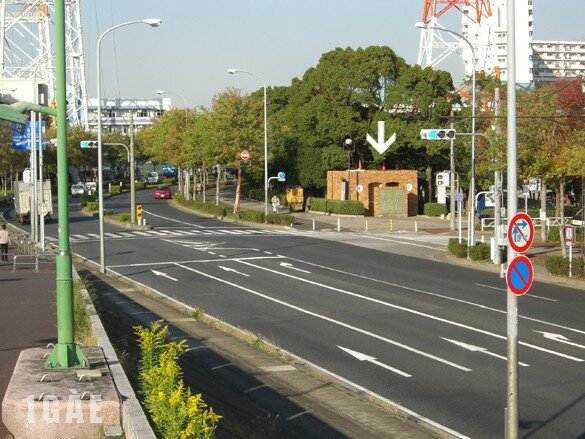 En effet, mon contact à la ville n'a pas été en mesure de me fournir une explication quant au pourquoi de cette plaque abordant un thème de l'Égypte antique. Il m'a toutefois assuré qu'il n'y avait rien d'ésotérique. D'emblée je peux confirmer cette information car suite à une courte ballade en vélo sur la grande digue j'ai décidé de faire mon p'tit tour au coin et je n'ai rien remarqué de spécial pendant les 2 minutes d'assouvissement; ça sentait...les toilettes publiques. Toutefois, que dire de ce petit graffiti inscrit sur le pied du pharaon? (voir photo en bas à droite) On dirait une intrigue pour je ne sais quoi. Voilà ce qui est écrit: 11 mashiro no kanban no ura (11.Derrière le panneau blanc?)
Unfortunately my acquaintant working for Edogawa-ku was not able to provide me with some explanations regarding the mysterious Nishi-kasai Egyptian toilets. He did however say there was nothing special about them and that I could scratch off "esoteric conspiracy" from my list. I guess I can confirm this information as I have myself used the toilets today and did not experienced anything special while doing my business! Then again, I did notice a small graffiti on one of the pharaoh's feet (pic bottom right). It looks like some kind of riddle. Here is what it says: 11 mashiro no kanban no ura (11.Behind the white sign board?). Beats me.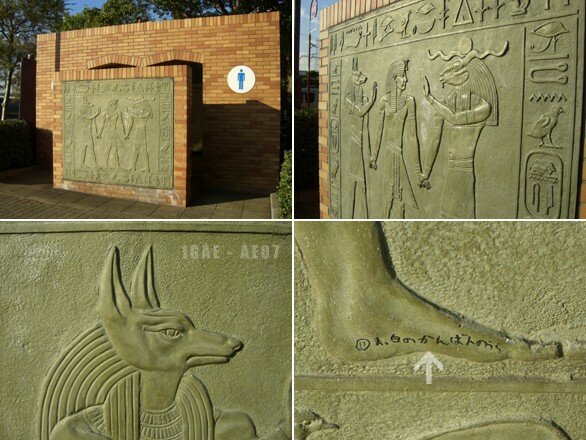 Autre détail intéressant, et qui ajoute un peu au mystère. Non loin de ces curieuses toilettes, 200 mètres à l'est cachée derrière quelques arbres, on peut apercevoir une petite pyramide. Visiblement, quelqu'un avait de la suite dans les idées!
And while we're at it, I made another discovery today which may add to the mystery. While inquiring the area I found this small pyramid located about 200 metres eastward from the toilets. It only gets better!
Egyptian Toilets and pyramid on Google Maps
Update: I'm not the only one who is curious about that pyramid (Japanese article)