Le jour ils sont à la fois partout et nul part. En fait, ils se font plutôt discrets, dorment cachés dans des endroits difficiles d'accès, dans les buissons, entre les immeubles... Bref, loin des regards. Parfois ils sortent en catimini dans les rues étroites, d'un pas empressé, sur leur garde parant à toute éventualité. Lors des après-midi ensoleillés ils se font plus courageux, dans les endroits moins fréquentés, s'étendent sur des dalles question de profiter de la chaleur. Mais la plupart du temps ils ne sortent que lorsque le soleil est couché, surtout lorsque la majorité des travailleurs sont rentrés à la maison. Voilà, aujourd'hui on cause chats à Edogawa.
They're everywhere and nowhere during daytime. They're discrete, hiding in more or less accessible places such as between buildings and in bushes. They sometimes come out from their remote hideouts but they're constantly on their guards and they can disappear as quickly as they've appeared. The courageous ones might sleep on sidewalks or warm spots on sunny afternoons, taking a break. However, most will only come out during night time when the lights are out and when workers are back home. And so life goes on, Edogawa cats, today's topic.
La nuit ils prennent craintivement possession des parcs, si nombreux dans ce coin de Tokyo. Ils y tiennent même des assemblées lorsque les lumières principales sont éteintes, genre de réunions de taverne. Il suffit d'être là au bon moment. Assez impressionant. Toutefois, la plupart du temps ils sont à la recherche de restants de nourriture que des passants ont laissé ça et là par paresse, par mégarde ou en toute connaissance de cause; en effet, il n'est pas rare d'aperçevoir de bons samaritains interpellés par le sort de ces bêtes. Bonnes samaritaines devrais-je plutôt dire car ce sont toujours des femmes. Je les surnomme d'ailleurs les "catwomen". Elles aussi se font discrètes. Peut-être est-ce la gêne? Certaines sont plus assidues que d'autres, de véritables missionnaires, telle la catwoman de Nagisa. Elle est toujours au même endroit, sous un viaduc de Recreation Park, offrant chaleur et nourriture à ces félins qui surprennent par leur nombre. Des fois elle emmène une complice, et les deux cajolent les chats comme des gamines le font avec des poupées. Ils y en a bien d'autres comme elles. Intriguant.
Like I mentionned earlier night time is a different ball game. That's when hords of abandoned cats take over the numerous parks of the "ku". They hold assemblies among themselves, socialize with each other. You'll most likely witness these surprising scenes when the main lights have been turned off, around 23:00. However, the real reason why they all come out is most likely to hunt for food. Everyone is looking for leftovers that people have carelessly left around. Then again it might have been intended for them as well. The truth is some people really care about these cats. Most of them are women and I like to refer to them as the "catwomen". They too are rather discrete. Perhaps they are shy? Some take their tasks more seriously than others, such as the Nagisa catwoman. She's always at the same place, underneath one of Recreation Park's overpass, offering warmth and food to so many cats. She's a real cat missionary. Sometimes she brings one of her friends along. They might be two notorious catwomen joining forces actually, and they both play with the cats like little girls do with dolls. They are a few others like them. Fascinating to say the least.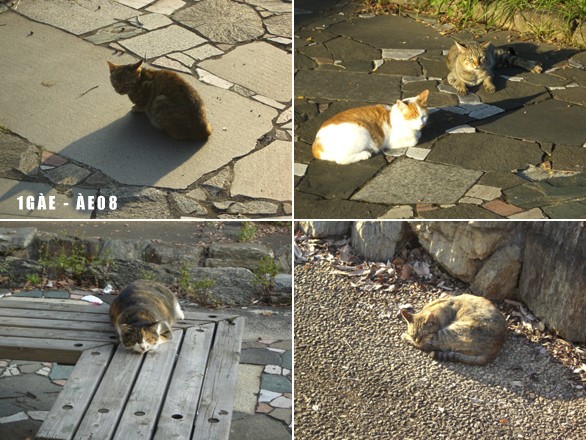 Les chat de Recreation Park, ce sont, je crois, parmi les plus chanceux. Les chats de Shinkawa, près d'Ukita bashi, peuvent eux compter sur la bonté spontanée de passants. Il y a certainement plusieurs autres endroits comme ceux-là à Edogawa où chats abandonnés puissent se remplir la panse régulièrement, sans trop d'effort (bien entendu à la condition que). Pendant longtemps j'ai cru que les chats d'Edogawa n'auraient aucune chance face aux bandes de félins de la ruelle Quinn à Verdun (Montréal). Les bagarres de territoires y étaient légions, des durs de durs. Ça c'était avant que je m'aventure à Rinkai cho ryokudou! Là-bas les chats abordent de véritables cicatrices de guerre, témoignant ainsi de la férocité de leur quotidien. On les laisse tranquilles ceux-là, surtout les vieux qui ont perdu ce sens de l'urgence qui caractérise si bien ces animaux. D'autres miaulent, cachés derrières des buissons. Ils ont faim les pauvres. Etant un endroit plus ou moins fréquenté, délaissé même, les passant se font plutôt rares. Est-ce que des "catwomen" s'y aventurent? Possiblement mais j'en doute. Faut dire que je ne suis pas un habitué de l'endroit alors difficile à dire. Quand même, petit secret troublant que la majorité des résidents de l'arrondissement ignorent: quelques sans-abris ont établit leur niche dans ce secteur. Donc, tout le monde est en mode survie dans ce coin autrefois prometteur. Enfin je crois.
The Recreation Park cats are, I believe, the lucky ones. The Shinkawa cats near Ukita bashi can count on spontaneous generosity from numerous pedestrians walking along the river. There are certainly a few other spots in Edogawa where cats can fill up their stomach without too much effort. For a long time I thought Edogawa cats could never stand a chance against the Quinn alley cats in Verdun, Montreal. Those little bums took part in territorial fights on a daily basis and they sure were rough. Now that was until I went to Rinkai cho ryokudou! The cats there have real scars of wars, and I'm sure they lead somewhat different lives from the cats I've described earlier. The older ones don't even care anymore when you approach them. You just might as well leave them alone, let them enjoy their peace. Others hide behind bushes and moan loudly. Those are the poor hungry little ones. Do catwomen dare to go there? Maybe they do but I doubt it. Then again I don't go there that much often myself so I can't really tell. However, I am aware of something going on at Rinkai cho ryokudou which most residents in the "ku" ignore: You won't just find abandoned cats there but homeless people too. Therefore, everyone is in survival mode in that area. Too bad. I'm sure that place was meant to be more promising when built. I think.