Aujourd'hui j'entame un projet qui tramait dans ma tête depuis un bon moment déjà. J'aimerais évetuellement inclure des images de toutes les stations de métro qui déservent l'arrondissement Edogawa sur mon blog. On en dénombre 11 sur le territoire et elles sont réparties sur 5 lignes. Evidemment, je ne compte pas accomplir cela du jour au lendemain. De temps à autre une nouvelle station sera mise en évidence, aléatoirement. Il faut dire qu'il y a des stations que je connaîs très bien et d'autres où je n'y ai jamais mis les pieds. Donc, la couverture sera forcément inégale. Néanmoins, le but recherché et d'abord et avant tout de mettre en ligne quelques clichés et de faire un survol assez léger sur ces endroits différents. Ce sera également pour moi une chance de découvrir de nouveaux lieux. Autre difficulté auquelle je fais face dans l'accomplissement de ce projet: la prise de photos. En effet, j'essaye d'être le plus discret possible car je ne veux pas trop pertuber ou rendre incomfortable des usagers (c'est tout un défi!). Question de politesse, voilà c'est tout. Donc, le résultat est que ça ne donne pas toujours les meilleures photos mais bon on fera avec ce qu'on a.
I'm now going ahead with something I've wanted to do for a long time: covering all the train/subway stations of Edogawa-ku on my blog. In total there are 5 lines (11 stations) servicing the area. Of course, this personal task will take some time to accomplish and complete. So once in a while you can expect to find an entry regarding one of the stations around here. Some of those stations I know very well but the truth is I'm not familiar with most of them. Therefore, this will be also an opportunity for myself to discover new grounds. The goal I'm seeking here is to have a general overview, who knows we might find out interesting information in the process. One challenge I will face when doing this project is taking pictures and filming videos without disturbing the people as much as possible (note I said "as much as possible" I mean there's people everywhere here!). It's simply a question of respect. Maybe what I'm trying to say here is that some of the pictures will most probably not be of best quality but they will be "acceptable" under the circumstances.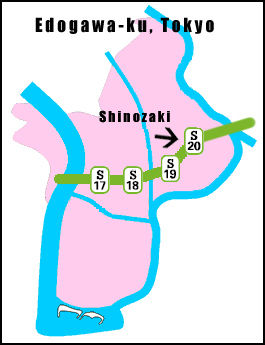 Nous débutons donc avec la station Shinozaki, station de la ligne Toei Shinjuku inaugurée en 1986. Le symbole de la station est un arbre kusunoki (camphrier). On retrouve ce symbole un peu partout dans la station, sur les murs et sur le plancher. J'avous d'emblée je ne suis pas un habitué de ce coin d'Edogawa; a part du grand parc Shinozaki et de Sports Land qui sont dans les parages, je ne suis pas vraiment en mesure d'en dire plus. Evidemment comme à proximité d'à peu près toutes les stations de métro de Tokyo le coin regorge de salles de Pachinko et de restaurants fast-food. Si par chance un lecteur de ce blog connaîs d'autres informations à propos de Shinozaki, alors je serais très heureux d'en apprendre plus sur le sujet. Vous pouvez m'envoyer des photos également.
The first station who gets the honor of being covered is Shinozaki (for no any particular reason I'd like to add here). Shinozaki station is on the Toei Shinjuku line and it opened to public in 1986. The station's symbol, the kusunoki tree (Camphor tree), is omnipresent in the station. You will find it on most walls of the station and on the floor too. I have to admit apart from Shinozaki park and Sports Land I don't know much about the surroundings. Of course, you'll have the usual Pachinko parlor and fast-food restaurants. There are also 2 grocery stores. However, if some of you have some information to share regarding Shinozaki it would be greatly appreciated. You can send pics too.
Voici un aperçu extérieur de la station (la station compte deux entrées). Il y a des cloches en forme de kusunoki sur une des entrée. Elles sonnent à toutes les heures.
Here are views outside of the station (the station has 2 entrances). There are bells set up as kusunoki tress on one of the entrances and they ring to mark the hour.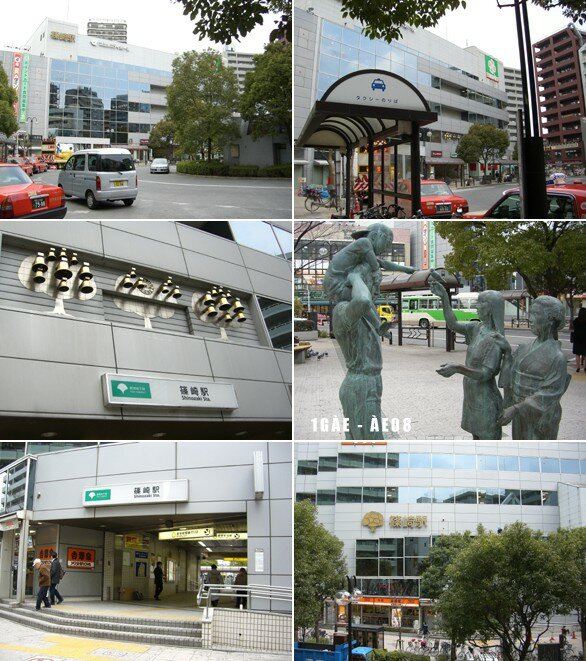 Et un aperçu intérieur de la station.
Here are views inside of the station.
Vidéo youtube d'un train local.
Youtube video of a local train.
Vidéo youtube d'un train express qui ne s'arrête pas à la station (petite "draft" en passant).
Youtube video of an express train which doesn't stop at the station (had some difficulty to stand still when the train passed by).