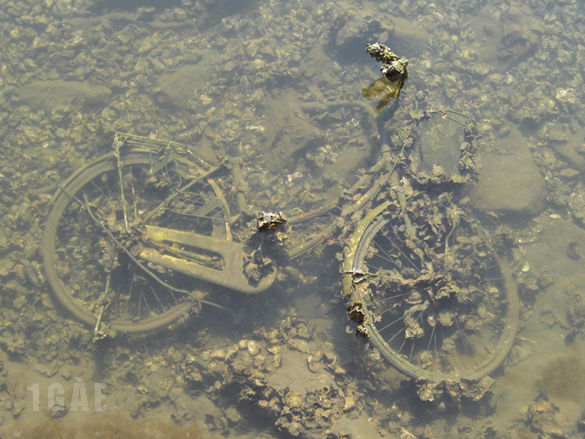 C'est un fait, il y a beaucoup de vélos ici. On les retrouve partout, même dans des endroits insoupçonnés! Car voilà, ils ne sont pas tous en bon état. Aussi, le vol de vélos est, étonnament, chose courante. Il faut dire que ce n'est pas très difficile à voler. Des fois les policiers stoppent au hasard des cyclistes afin de vérifier si le vélo qu'ils conduisent est bien le leur. J'ai moi-même été l'objet d'une telle procédure. Quand le policier a communiqué avec la centrale et que celle-ci tentait péniblement de prononcer mon nom il était plus que convaincu que je n'étais pas fautif! Le tout s'est déroulé en quelques minutes et sans problème (à mon avis, le policier a trouvé un prétexte afin de regarder de plus près ma magnifique casquette des Canadiens de Montréal!)
Bicycles are everywhere here, even in very unusual places. This might be surprising for some of you but bicycle theft happens frequently in Tokyo. Of course, let's face it stealing one is not very challenging by western standards. Sometimes police will randomly stop cyclists to make sure the bicycle they are riding is truly theirs. This happened to me once, a few weeks ago. The policeman who had stopped me was more than convinced I wasn't faulty when he heard the central office struggling to pronunce my name! The whole thing lasted only a few minutes (but you do hear of less pleasant experiences from other gaijins sometimes).
Des gens se débarrassent de leur vélo comme ça, pour diverses raisons. Plus souvent ils les abandonnent dans des lieux plus ou moins fréquentés, derrière des buissons ou dans les rivières. Les alentours des digues, nouvelles et anciennes, sont des endroits prisés. Voici donc une collection de photos de vélos abandonnés que j'ai mis en ligne sur flickr.
People get rid of their bicycles for just about any reason. Like one blogger friend pointed out, bicycles here are like disposable Bic pens. You can find really cheap bicycles here so some people will simply buy a new one if they run into problems such as a flat tire or a slipped chain. Also, properly disposing of an old or damaged bicycle comes at a cost, somewhere around 2000 yens. Therefore, it's not rocket science to figure out the easiest solution is to throw it in a river or leave it somewhere to rust. Actually, Edogawa dykes look like bicycle cemetaries sometimes. Here are a few pics of abandoned bicycles I posted on flickr.